Remember, it is HE that gives you the ability to create wealth…
STEPS TO FREEDOM:
PROPER PROTECTION:
Until you know that if you die and no one would be hindered or lacking when you die, you are not protected properly.

​EMERGENCY FUND:
Most people's emergency funds come in plastic… credit cards.
​
ELIMINATE DEBT:
Credit cards stick around longer than some family members…

INCREASE CASH FLOW:
Our incomes have not kept pace with inflation, we need extra income.

CREATE WEALTH:
Helping others will be a blessing to your finances.
​
TAX FREE CASH FLOW:
When the blessings come flooding in, place it correctly into a Tax Free Cash Flow vehicle.
WEALTH MUST RESIDE SOMEWHERE
Taxable = Best for Short Term
Deferred = Fastest way to grow it
Tax Free = Where the rich get richer!

STEWARDSHIP SOLUTIONS
Remember, it is God that gave you the power to get wealth. Manage it well
​​

PRODUCTS WE OFFER:

​Term
Permanent Participating Cash Value Whole Life
Fixed Indexed Annuity​​

​

​​

Last Expense
Long Term Care
MAPD​
Using a properly designed Permanent Participating Cash Value Whole Life contract, we can approach our financial lives with control, growth and results. We will use the right company, design a policy for
your
situation and goals. With discipline, this will provide better results than any other financial vehicle.
Contact us
today and speak to one of our Certified Stewardship Solutions Advisors.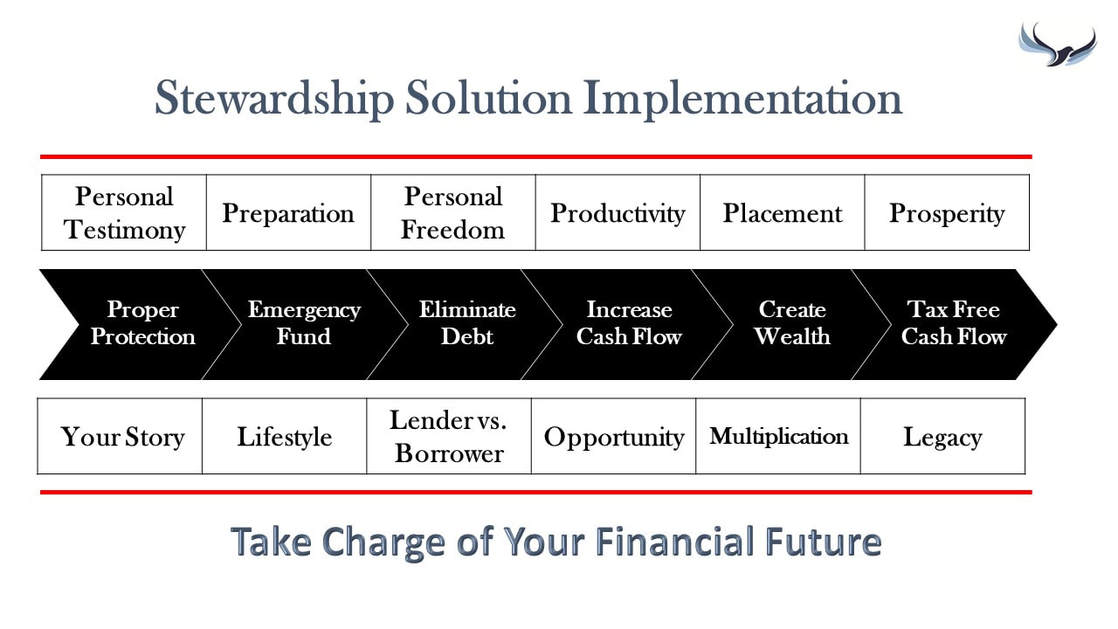 PERMANENT PARTICIPATING CASH VALUE WHOLE LIFE INSURANCE
​
Focused on the living benefits of Life Insurance, Cash Value Design, Tax Free Access, Tax Deferral, Non-Recognition Loans, Dividends… we often lose sight of the reason for Life Insurance. The Death Benefit protection will ease the financial burden caused by an untimely loss. Beneficiaries can use the benefits for final expenses, reduce debt, cover medical bills, or pay for everyday living. Benefits can also help your loved ones maintain their lifestyle and help build their future. What you wanted and dreamed for your family can happen.
Protect The Ones You Love